Mr. Barasa has several years of experience in executive management positions at various global companies in Corporate and Investment Banking, Structuring and Financial Engineering, Commercial Banking and Financial services. He is a Director of several other companies and previously served as a Managing Director at Bank of America Securities and as Managing Director, Corporate and Investment Banking at DTB Africa prior to joining the Ndiema Group.
Group Managing Director & CEO
Dr Mary is the Group MD& CEO , Ndiema Group. She is a lawyer and business professional with 20 years of experience operating across Africa, Asia, Europe and  America. Throughout her career she has worked in multi-cultural, global environments, providing sophisticated legal and strategic advice to multi-national clients. Dr Mary is passionate about Africa and opportunities which enable her to use her broad experience to contribute to the development of the continent and make a difference in the lives of its people.
Group Executive Director, Sales and Marketing
Mr. Alan has a B.Com (Hons) degree from Indian institute of management and is a Certified Public Accountant and a Certified Public Secretary. He is also a member of ICPAK and ICPSK. Mr. Alan has over 11 years' experience in the financial sector. He previously worked for Mobil Oil, before joining the Mercantile Finance Company in 1999.
Group Executive Director, Finance & Strategy
Dr Nancy has over 8 years regional experience in Audit, Operations and Finance, having worked for several years in various executive management positions at  Marshalls (E.A.) Ltd. 
Group Executive Director, Technology & Operations
Mr. William is the Executive Director, Technology and Operations . His previous role as the  Chief Operating Officer of Labspec had him successfully oversee the company's operations and support functions in Kenya. He is an experienced general management professional with a 10-year career spanning the public service, telecommunications and financial services sectors. 
Group Executive Director, Portfolio Development & Capital Markets
Mark is the Executive Director, Portfolio development & capital markets, Ndiema Group.
  Mark joined the  business of Ndiema Group in 2017 after graduating in Business Management from Egerton University. He worked across different functions of the business, including Operations, Marketing and Supply Chain Management.
Group Executive Director, Business Development
Nelson is the Group Executive Director of Business Development  Ndiema Group. He holds a Bachelors Degree of Medical Biochemistry & Molecular Biology from Chuka university and a professional certificate in Business process and Enterprise Application Integration Management from Metropolitan School of Business & Management, UK. He is currently pursuing  Master of Business Administration(MBA) at Strathmore University Business School. He is specialized in Molecular Biology Techniques, R&D,  and Clinical Chemistry. Mr Nelson was the key architect of  Labspec's 4X4 strategy & approach to international expansion and has been instrumental in driving the company's efforts in becoming the market leader in Biotechnology and Healthcare Sector across the East Africa region.
Chief Financial Officer & Company Secretary
Patricia is Chief Financial Officer and Company Secretary, Ndiema Group.She started her career as an Executive Trainee at Ndiema Group. She has held key positions across the Group. 
Post this, as Chief Financial Officer, she worked on a number of strategic cost saving and profit improvement projects for the NCPL business, apart from managing the Treasury and Forex. She was responsible for Investor Relations and various capital raising plans, including the first Qualified Institutional Placement (QIP) in the Group.
Peter is an Independent Director, Ndiema Group.
He is a professionally trained executive coach and business advisor. He brings with him experience of over 10 years of work with renowned multi-national Johnson & Johnson. He was Managing Director in Rwanda for 5 years followed by appointment as MD in Uganda in 2015.
He completed his corporate career in April 2009. Peter serves on boards of leading corporates in Kenya and acts as business strategy advisor.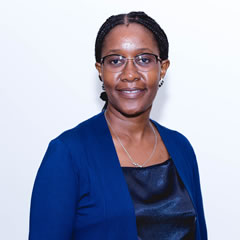 Dr Joyce is a Non Executive Director, Ndiema Group.
She is the managing partner of Centomomy Consulting which works across East Africa dealing with financial education and investment in the region. She is also the co-founder of ACC Foods, which was established in 2009 to fight malnutrition, reduce post-harvest losses among smallholder farmers and displace imports. She is the founder of LP Africa which inspires, empowers and equips a new cadre of principled, disciplined and dynamic young leaders in Africa.
Joyce started her career as a management consultant with McKinsey & Company, working in their Chicago, New York and Johannesburg Offices. She holds an M.B.A. from Harvard Business School and an undergraduate degree with honors from the Wharton School of the University of Pennsylvania. She was a Senior Fellow at the Mossavar-Rahmani Center for Business & Government at the Harvard Kennedy School and an Aspen Institute New Voices Fellow.